Meet the Author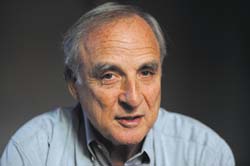 A native of Arlington, Virginia, the Rev. Benjamin P. Campbell studied political science and political economy at Williams College in Massachusetts, and studied theology as a Rhodes Scholar at the Queen's College in Oxford. He received a Master's in Divinity and an honorary Doctorate in Divinity from the Virginia Theological Seminary in Alexandria. 
He was ordained to the priesthood of the Episcopal Church in 1966. He came to Richmond in 1970 and has lived in Church Hill since that time. He has ministered to three Episcopal churches, and served as Communications Director and subsequently Program Director of the Episcopal Diocese of Virginia. He directed two non-profit corporations—the Richmond Urban Institute, and Home Base, Incorporated, a neighborhood-based low-income housing corporation. In 1987, he became Pastoral Director of Richmond Hill, an ecumenical Christian community and retreat center on Church Hill in Richmond.  
He is a co-founder of the Micah Association, which links more than 100 faith communities to twenty-five inner city elementary schools in Richmond, and of the Armstrong Leadership Program, involving thirty-six students in Richmond's inner city Armstrong High School. He chairs the program committee of Communities in Schools, a program that supports volunteer efforts and social service work in the Richmond Public Schools. He is also a member of the Richmond Slave Trail Commission and the Richmond Public Schools Foundation.  
Dr. Campbell is a member of the Residential Community at Richmond Hill. He is married to the former Ann Elizabeth Hopkins, a teacher at William Fox Elementary School in the City of Richmond. Their children attended and graduated from Richmond Public Schools.  
Dr. Campbell is a seventh-generation Virginian. His Scots-Irish ancestors first came to Berkeley Springs in the 1760s, and settled at Timber Ridge, in Rockbridge County outside of Lexington, in the 1780s.